I WELCOME ONE AND ALL TO WALT DISNEY'S 2DUM DARE: ELECTRIC BLOOGALOO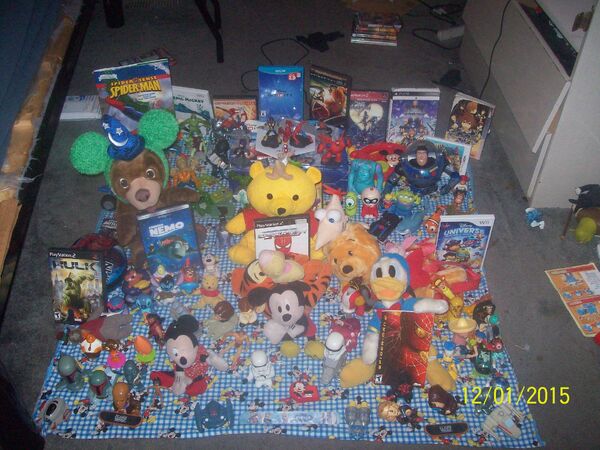 Ignoring some of the (ahem) background details look at all  (and when I say all i mean ALL) my cool Disney stuff! This was originally supposed to celebrate my visit to Disney Land but, better late than never! Imagine this as a game of Where's Waldo, but not where. WHO. That's right for this dare you try to name as many of these characters/games/etc. as you can! There's 129 in total so see if you can count 'em all! You have until February 2nd to do so! Good luck and have fun! 
Here are some bonus perspectives to help you out! Be weary, some things may only be visible in a few of these extra perspectives so you'll have to be very vigilant to see it all!
entrants (closed): http://pastebin.com/YynnMwCv 
Ad blocker interference detected!
Wikia is a free-to-use site that makes money from advertising. We have a modified experience for viewers using ad blockers

Wikia is not accessible if you've made further modifications. Remove the custom ad blocker rule(s) and the page will load as expected.