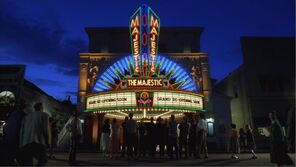 The Birth of Chill Cinema
During the year of 2012, Station Square nearly tore down an old, rundown opera house. However, due to a petition saving it in time, the Chill Cinema was born. 
Features 
The Cinema was renovated and reconstructed from an old Opera House that was condemned due to structural damage and old age. Now fully rebuilt, the Cinema has over 20 Screens; 10 for regular showings and 10 for 3D showings. Each room has 110 seats, and will show a movie from one of the following genres: Animation, Comedy, Romantic Musical Horror, Documentary. And the 4 Other Rooms are for Plays, Stand-Up Comedy, and Clubs.
About Movies
Current Movies
Animation/Kids
Fairy Delight
Romantic
Love from Across the Planet
Action
Horror
Comedy
Tao Tao Heights
Documentary
The Mobian Kingdoms:  Majang
Musical
Lovin' In the Springtime
Current Staff
Male
Darren the Panther - Manager
Nitro the Techno Echidna - Ticket Salesman
Female
Clyera the Cat - Food and Refreshments
Patricia the Skunk - Food and Refreshments
Brittany the Rabbit - Security
Ad blocker interference detected!
Wikia is a free-to-use site that makes money from advertising. We have a modified experience for viewers using ad blockers

Wikia is not accessible if you've made further modifications. Remove the custom ad blocker rule(s) and the page will load as expected.