Auda and Chase are two brothers, Auda a Hedgehog and Chase a Fennec-Fox who take the different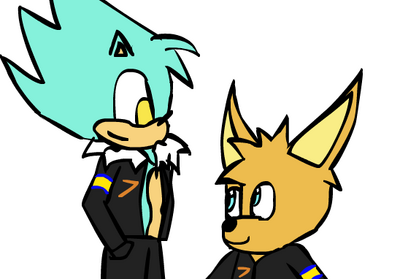 species of each of their parents as opposed to a cross-breed. Auda and Chase will be appearing in Chillverse 2.0
Personalities 
Chase and Auda rely on one another, Chase being the younger brother who despite knowing about their mission tends to fool around and does not know nearly as much as his older brother Auda. Chase tends to get lost in his own little world most of the time and despite his short height (3'0") certainly packs a punch and he is definitely not one to underestimate. Chase controls earth and light.
Auda however is very calm and collected, he usually does not tend to show emotions around other people unless a close bond was given, he's dead set on completing his missions though his brothers wellbeing takes priority over everything. Auda is very down to earth and is considered a reliable person, he'll always or most of the time have the equipment he needs, from foods the gadgets. Auda controls thunder and darkness.
History
At a young age their mother passed away, and ever since then they've been roaming the cities looking for a purpose. They realize that their purpose was just to fight for what's right and to journey the country looking for a way on how to do that. Eventually they met people from a place called Amestris and stayed there for a while, though there was suddenly an all out war that broke out.
During the war, many people died, notable names would be Sparks , Boombomb , JT , Falco , Makoto and supposedly Shen. Another thing that happened during the war was a woman named Nova was causing most of the trouble during. Though, as everyone fought, she unleased darkness into the sky, and knowing what the crystals the others were aiming to get could do, Auda and Chase went to desperate measures to create a rip in space and time by combining their Light and Dark powers with the Pitch Black energy that was being launched into the air everywhere, creating a small hole nearby, they entered, knowing the risks and pushing their luck. The reason they did not tell anyone was because the universe was destined to be destroyed, and there was no alternative action to take.
Infoboxes
Auda

Auda's original design

Age

15

Likes

Fields, Hanging with Chase, Sushi

Dislikes

Being alone, Chase being hurt

Friends

Chase

Enemies

?

Love Interest

No one

English VA

Steve Staley

Seiiyu

Yūichi Nakamura
Chase

Chase's original design

Age

12

Likes

Fields, The sky, Ice Cream

Dislikes

Being in massive messy crowds, Carrots, Claw Machines

Friends

Auda

Enemies

?

Love Interest

No one

English VA

Coleen Clinkenbeard

Seiiyu

Mariya Ise
Ad blocker interference detected!
Wikia is a free-to-use site that makes money from advertising. We have a modified experience for viewers using ad blockers

Wikia is not accessible if you've made further modifications. Remove the custom ad blocker rule(s) and the page will load as expected.